Smooth, Comfortable, and Safe
Smooth, Comfortable, Easy to Control, and Safe
Perfect for Gaining Muscle Control

6 multi-sized graduated dilators

Universal handle

Lubricant samples

Care instructions

Cotton storage bag*
Carefully crafted with a seamless finish, with a silky low-friction texture that allows smooth entry and eliminates sticking. *Bag may vary.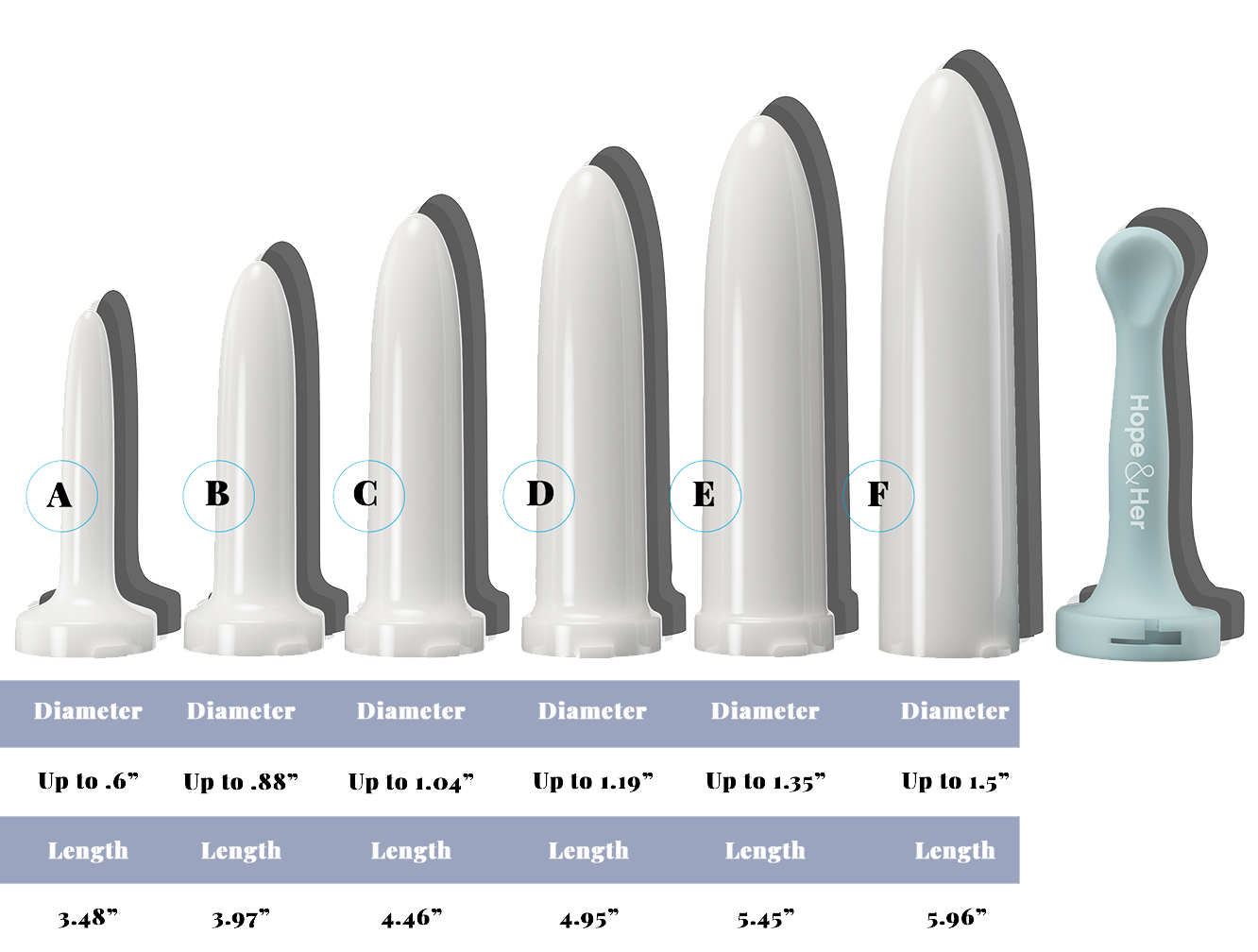 Trusted, Comfortable Design

Comes with an ergonomic solid-lock handle for easy insertion.

Made of smooth, medical grade plastic

Completely BPA, latex, and phthalates free

Made in the USA—Patented design
Simply a better product: Our medical-grade dilators are smooth and comfortable, easy to control, light-weight, and safe.
The #1 Choice of Professionals

Our dilators have been recommended and bought for over twenty years, and are currently trusted by over 100 hospitals to be the best on the market.
The resources and kits we provide have been mentioned by healthcare services, universities, and media organizations across the world.
With the support of physical therapists and doctors, we have been able to help thousands of women overcome their respective conditions through our industry-leading products.
These dilators are medically graded (FDA INT), non-toxic and latex-free. Highly effective for post-surgical recovery programs as well as for treating vaginismus, dyspareunia, vaginal narrowing and other similar gynecological conditions. [CPT Code: Procedure 57400 or 58999, HCPCS Code: E1399, Supplies: 99070]
"Patients who have pelvic floor dysfunction, vaginismus, vulvodynia, and vulvar vestibulitis are very impressed…your design is easier for insertion and the handle component allows for more control."
Pamela Morrison—BA, PT, MS, BCIA-PMDB, Pamela Morrison Center for Physical Therapy
"Patients are very happy with the results and by giving them the dilators they feel that they are taking an active role in their treatment/recovery. Thank you for your help with these patients."
Amy Stein—MPT, Beyond Basics Physical Therapy
"I am very impressed with the price of the product. It is much more affordable than what I have recommended to patients in the past."
Sasha Jackson—MPT
"As a pelvic floor therapist, I recommend vaginal dilators frequently to help patients assist in their own care. These dilators are perfect. They have a handle which makes it easy for my patients to use, discreet so you can carry them without embarrassment and compact so that they can take them anywhere. Thank you for creating a great product!"
Hina Sheth—MS, PT, OCS, MTC
Rebalance Physical Therapy
Narberth/ Philadelphia, Pennsylvania
"I was prescribed your dilators … I used them regularly and found that they were easy to use, clean, and they worked very well for me."
"The dilators are great, thank you so much for offering them at a reasonable price. I couldn't have overcome vaginismus without them."
"After using the dilators as directed for the past few months, my husband and I have been able to enjoy intercourse again! Thank you so much!"
"Thank you so much for helping me... I worked through your program for over a year, and we are finally able to have a normal intimate life. We got pregnant my 1st month after I completed the program! Thank you."
"Hi Lisa - Just to let you know I purchased dilators and book from you a couple of months ago. And on Wednesday we finally had intercourse! We can't thank you enough it has changed our lives."
"I just wanted to thank you for your website and your vaginismus kit. I am 39 years old and was unable to have intercourse until now... a whole world of possibilities is open to me: marriage, a family, a fulfilling sex life. Thank you so very much!"
"Thank you so much for the wonderful treatment program – it's changed my life and helped me get over vaginismus, a condition I was beginning to think, had no cure... It's taken me over 4 months to overcome vaginismus, but the good news is that I have finally become an Overcomer!"
"I wanted to send you all my many THANKS to you for your help... Sex is easy and painless for us now and we hope that other couples will not be ashamed to admit their problems and seek help. Victory can be accomplished and the reward is so VERY worth it. Thank you for providing this help to many couples."
"I am so thankful that I tried your product. After four years I can finally say I consummated my marriage. It's just wonderful to feel pleasure instead of pain. Thank you again..."